While visiting Brazil, early this year, I got the chance to interview the muralist and street-artist Eduardo Kobra at his new studio at Vila Madalena. Kobra is one of the brazilian artist, who is transforming the under-construction and gray city of Sao Paulo in a more colourful and vibrant place to live.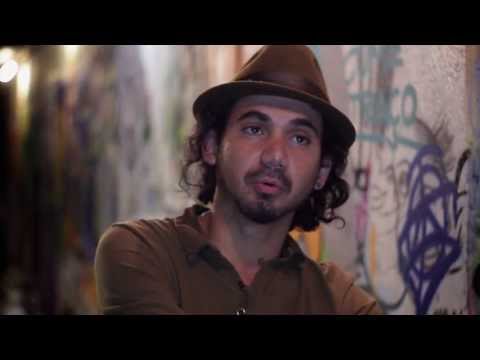 Kobra started with pixação in 1987, on the periphery of Sao Paulo city, like many other artists of his generation. Nowadays, he is well known over the world for his sophisticated work inspired by the Mexican Muralism movement, that generally used social and political messages through the paintings.
During the interview, Kobra talked about his projects as, for example, The Wall of Memories, which depicts the city of Sao Paulo in the early '20s. Besides the aesthetic beauty of the work, he makes a critique about Brazil, that did not preserve anything from the architecture of this time.
Another series is a protest in protection of the animals – Kobra revels that he is more connected with animals than with people.
During the interview, I asked him where in the world he dreamed of painting, surprisingly this place (find it watching the video) is in his hometown of Sao Paulo, where in the opinion of the artist (and mine too) still lacks a lot of street art.
Kobra is a master of 3D paintings – last January, he painted the portrait of the famous Brazilian architect Oscar Niemeyer, who died at the age of 104 last year. The mural is one of the biggest in Brazil, 52 meters high in the most important avenue of Sao Paulo, Paulista Avenue.
At this moment, Eduardo Kobra is at Wynwood District, painting a  mural for Miami Art Basel.
——–
The video interview with Eduardo Kobra, is the second video portrait of a trilogy project in which I'm working with the filmmakers Marcos Hinke and Jaqueline Souza, followed by a video with the artist L7M (check it here).