No, the previous post was't my last post on this platform, maybe this one won't to be also!
2015 was and still have been a year of many projects and I am glad to record still here a project I realized in partnership with my friend, countrywoman and plastic artist
Viviane Mendes
.
—–
Sometimes I think it's kind of trauma, but I habit of thinking that everything that begins has to end with an end stop, in a linear way: beggin, middle and end point.
Coincidence or not, my first article for this blog in January  2012, it was an interview with Viviane and I had the impression that this project I will present here – Vivi et Les Chats completes a cycle. Oou, I said cycle? Great, I think I'm learning the lesson!
The circle is infinite, I remember one wonderful speech that my dear friend Tomi Tadano did in one occasion explaining the symbolism of alliance for marriage, that represents the never-ending circle.
And that's how I hope it to be with Viviane, a partnership, an endless friendship…
—-
Viviane was my first real contact with an artist. For many years I passed in front of her studio, in one of the charming little houses built in 1934 in front of the flying club of Bauru and I use to enjoy so much her paintings exhibited at the balcony.
Finally in 2006 I was pleased to own my first art-work and of course it was a Viviane canvas: A beautiful blue butterfly. In 2010 I won my second work of this artist, a present from an old love, where Viviane painted her three favorite cats: Titico, Catatau and Zé Bonitinho.
In 2012, then came an interview with the artist, the first post for this blog. Check the interview
clicking here
.
In 2013 in one of my trips to Brazil, Viviane and I dreamed and dare: I brought a huge canvas to Paris: The Black Cat.
In 2015 Viviane decided to come to Paris with her colorful and vibrant cats for the city of the Black Cat and we documented her first  of urban art project and you can check it, in this video below: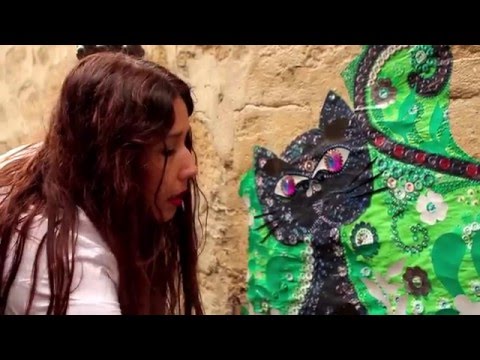 Video by Águas de Março Filmes
Vivi et Les Chats was just one of the projects we undertake in partnership. We also took the opportunity to present her book Pintar Arte (publish by
Idea
)  in a wine bar (Le Bubar) at Le Marais district in Paris. For this occasion Vivi gave for the first 20 guests an autographed book.
With Vivi I have bee learning every day and instead of putting an end in many things, she taught me the value of ellipsis ….